Skip to Content
Mold Remediation & Removal in Sacramento & Solano County
Your Go-To, Certified Mold Remediation Company
Five Star Restoration provides mold remediation to Sacramento and Solano County, CA residents. As the area's go-to, certified mold remediation company, you can rely on our expert team to protect your air quality and health with professional mold removal services. Needing mold clean-up can be an annoyance for home and business owners, but this isn't the case if they hire a mold remediation specialist from our premier company. All our contractors are highly trained and -experienced in black mold removal. We value the property owners of Sacramento and Solano County. We will always go the extra mile to render excellent mold removal services.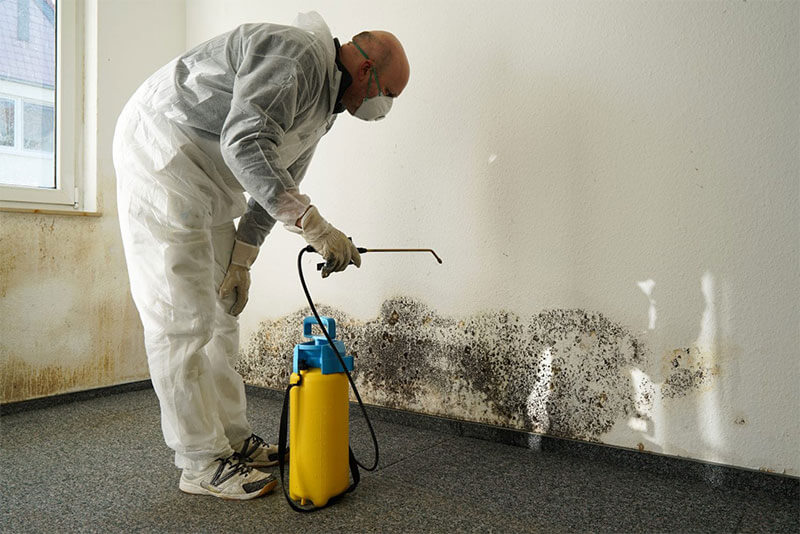 What is Mold Remediation?
Mold remediation is a multi-step process that includes removing, cleaning, and disinfecting mold-contaminated areas. Mold remediation address the causes of a mold outbreak, gets mold outbreaks under control, and ensures that the outbreak doesn't happen again. This process uses specialized equipment and methods to ensure mold is eradicated from your property.
The Mold Remediation Process
The mold remediation process consists of five different steps – inspection, containment, air filtration, mold clean-up, and sanitization. Below, we've gone into detail about each of these steps:
Inspection – This is the first step of the mold remediation process. During this step, your property is thoroughly searched for visible signs of mold. If any mold is discovered, samples will be taken to determine the type of mold. This will help determine how to stop the outbreak.
Containment – Any area contaminated with mold is sealed off to ensure that the mold is contained and cannot spread to other areas of your property. There are various ways to do this.
Air Filtration – High-efficiency air filters are installed in your property's heating, ventilation, and air conditioning (HVAC) systems to clear any active spores and prevent the remaining ones from developing into fungi. We may use special vacuum cleaners as well.
Mold Clean-Up – Our cleaning process is thorough and will help prevent additional mold development. The methods we use for this step are based on where the fungi are growing.
Sanitization – After the mold clean-up process is completed, your property must be sanitized. This includes clothes, furniture, curtains, and more. Items will also be deodorized.
We Specialize in Black Mold Remediation
Black mold removal is an important job. Mold can be determinantal to the health of those in Sacramento and Solano County, CA who are exposed to it, so when it is treated it needs to be done right the first time. If it isn't, not only can people become sick, but the mold outbreak will continue to grow and spread. If your structure in Sacramento or Solano County, CA is damaged by mold, it becomes an even bigger problem. Our professional team specializes in black mold remediation and can help.
HOW MUCH DOES MOLD REMEDIATION COST?
If you've ever wondered, how much is mold remediation? Wonder no longer. The cost of mold remediation is between $10 and $25 per square foot. Several factors can affect your total expenditure, so the price will vary based on the project size. The average mold remediation project costs around $2,200 and ranges between $1,100 to $3,350. Small-scale projects can cost as little as $500, and large-scale projects can cost as much as $6,350. Reach out to inquire how much your particular mold remediation project will cost. We are happy to offer a free consultation.
WHY CHOOSE US FOR MOLD REMEDIATION?
Mold clean-up of any kind is serious business. That doesn't mean that it has to stress you out; you should hire a professional team to provide you with the best mold remediation services around. When we receive a call regarding a mold problem, we will quickly arrive at your home or business and begin an inspection. This inspection will let us know if there is any hidden mold in other areas of your property. We always go the extra mile for our valued customers because we are a local mold remediation company that considers them our friends and neighbors.
CONTACT US TODAY FOR MOLD REMEDIATION
If you're having issues related to mold, Five Star Restoration is the team for the job. We have provided home and business owners throughout Sacramento and Solano County, CA with top-of-the-line mold remediation services for many years. We work hard to eliminate mold in the community efficiently and effectively, and in doing so, keep people healthy and happy. Our services allow the residents and business owners to continue with their lives without worrying if their space is unsafe due to mold. We're proud to help the community with mold removal where we live and work. To learn more or to schedule a consultation with our team of professionals, contact us today.